Why is Maintenance
Important
Proper maintenance should be performed every 3,000 miles. Some times these checks will involve only an oil change. Other times, a more complex check of items including gauges, sensors, belts or a tune up is required. You should have your vehicle checked before heading off on vacation.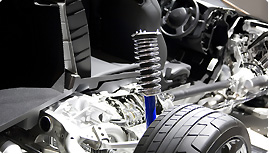 Keeping your car well maintained is the key to preventing breakdowns in dangerous or remote areas. Here are several things to be aware of.
Car Care Video Tutorials
You should always have your oil changed every 3,000 miles. This prevents build up of sludge and grime. With a properly lubricated engine, you are virtually guaranteed that the engine will not seize.
02:04
Underinflated tires waste gas. How much gas? The Department of Transportation estimates that 5 million gallons of fuel per day are wasted due to low tire pressure. That's more than 2 billion gallons per year, just because people don't take the time to inflate their tires properly.
03:59
Having a flat tire and not knowing how to change it can make you feel helpless. Changing a tire is easy enough to do, and everyone should have a general idea of what's involved.
05:35